5-Minute Vegan Cheesy Kale Skillet Dish With Tahini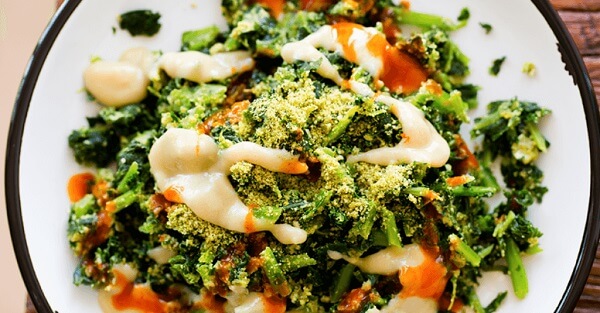 This post is reposted with permission of VeryVeganRecipes .
There are a lot of things to love about this Cheesy Kale with Tahini Sauce recipe. The first thing is that it's vegan . It is sprinkled with a quick and easy vegan cheese crumble . Just knowing the recipe for that alone is worth the time!
Then of course it taste delicious. I don't know anyone who went vegan and didn't develop a love affair with kale. There are so many ways to prepare kale and it is the most nutrient rich food on the planet. You can make kale chips which are delicious. I love to put a handful of fresh organic kale in my smoothies. And of course you can cook it in a skillet like this recipe. However you prepare it, kale is amazing!
And the last reason to love this recipe is 5 minutes. Yes, you can make this delicious vegan dish in only 5 minutes! This is actually three recipes in one. The vegan cheese sprinkles, the tahini sauce, and the full dish. Get the recipe details on the next page.
5-Minute Vegan Cheesy Kale Skillet Dish With Tahini
You start out with beautiful kale in the skillet. Organic frozen works best.
Sprinkle a little vegan cheese on it.
Drizzle on the tahini sauce.
You have a delicious vegan dish. Hats off to Kathy at HHL for this recipe. You can get it by clicking here!
This recipe is from Very Vegan Recipes .
Comments
comments