What Happens When you Drink Apple Cider Vinegar and Honey on an Empty Stomach in the Morning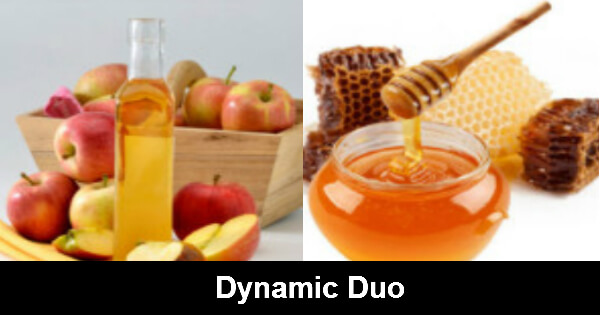 Double Your Health Benefits When Combining Two of Mother Nature's Wonders.
…with Apple Cider Vinegar and Raw Honey
We know that apple cider vinegar and honey holds their own powerful health benefits for the body separately, but when you put them both together in one mixture, you've got a dynamic duo.
With the honey added in its raw and unrefined state, they do the body r-e-a-l good.
If you drink a mixture of apple cider vinegar and raw honey before eating in the morning while you have an empty stomach, the benefits you can reap are relief of achy joints, inflammation, digestive issues and sore throat. You should be able to feel the difference in a short period of time.
10 Health Benefits of Drinking Apple Cider Vinegar and Raw Honey
These are the health improvements this mixed drink can provide you:
Improve overall health
Relieve joint pain even arthritic pain
Relieve constipation and improve your digestive health
Lower blood pressure and decrease cholesterol
Stimulate the body to shed pounds
Bring soothing relief to a sore throat
Increase energy
Give a youthful and healthy appearance to your skin
Kill the bacteria that cause your breath to smell bad
Decrease inflammation throughout the body
Why Does Apple Cider Vinegar and Honey Work
Drinking this perfect combination – apple cider vinegar and raw honey – creates the perfect alkaline ph in your which is what it needs to ward off dis-ease.
It's that simple.
It all boils down to maintaining slightly alkaline ph levels between 7.0 – 7.4 so your body can do its job – heal itself.
Apple cider vinegar and raw honey creates an alkaline environment in the body when ingested.
Simple Recipe for Your Morning Drink
You need:
1 tsp raw honey
1 tsp apple cider vinegar (or a tablespoon if you are good with its taste)
1 cup hot water
Apple cider vinegar is sour so the raw honey will calm it down some and make the drink more palatable.
Raw honey is always potent while its refined, processed counterpart has been striped of its viability. So make sure you use mother natures raw version to experience the full benefits of your morning drink.
The taste may initially be strong but you can convince yourself to get use to after you start experiencing the drink's benefits.
Directions:
To get the optimal benefits from this morning drink, take it on an empty stomach first thing in the morning. You have to wait at least 30 minutes before eating or drinking anything to let it work it's magic. Do this every morning and you will begin to notice improvements.
Cons to Drinking Apple Cider Vinegar
Apple cider vinegar may negatively effect diuretics and certain drugs taken by diabetics and also, drugs taken for heart and constipation issues.
High consumption of apple cider vinegar can decrease potassium levels and bone density.
(Source/Image: http://dailyhealthycare.com/what-happens-when-you-drink-apple-vinegar-and-honey-on-an-empty-stomach-in-the-morning/ )
Comments
comments