NY Supreme Court Judge Requests Dr. Sebi From Jail Cell To His Private Chambers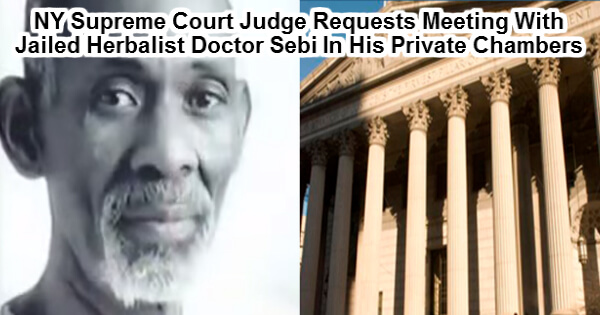 Dr Sebi: Man Found "Cures For All Diseases" AND Has The Supreme Court Ruling To Prove It!
Have you read this story about a man known as Dr. Sebi who claims he can cure all manner of diseases?
Watch the video below if you haven't.
Dr. Sebi was indicted because he did this one "crazy" thing as he calls it. This is what he did that he calls "crazy."
In 1985, Dr. Sebi placed an ad in The Amsterdam News, The New York Post, and The Village Voice claiming to have cured AIDS and other diseases.

The ad read: "AIDS HAS BEEN CURED BY THE USHA RESEARCH INSTITUTE, AND WE SPECIALIZE IN CURES FOR SICKLE CELL, LUPUS, BLINDNESS, HERPES, CANCER AND OTHERS."(1)
Two years had past …then the Attorney General of New York caught wind of these ads and determined that he had discovered a case of "practicing medicine without a license."
It was these ads that prompted the Attorney General to issue an indictment. That is all…no other evidence or incriminating information.
How do we know this?
We know that the Supreme Court Judge discovers this fact upon questioning Dr. Sebi in his private chambers.(2)
Why would a Supreme Court Judge request to have you escorted from your jail cell to meet with him in his private chambers?
Is healing with food and herbs a crime? (3)
The Attorney General didn't know what methods Dr. Sebi was using to cure diseases. Ultimately, it did come out in court that these methods that Dr. Sebi used to cure diseases indeed did not qualify as "practicing medicine without a license."
The truth is "practicing medicine without a license" does not cure diseases and since Dr. Sebi did cure diseases then he can't very well be guilty of that crime…Right?
Watch the video here to hear the real testimonial evidence that rendered a court ruling in favor of Dr. Sebi found NOT GUILTY!
(Image Source: http://www.nycourts.gov/courts/1jd/supctmanh/index.shtml )
References:
(1, 2) http://lists.csbs.utah.edu/pipermail/marxism/2004-March/104666.html
(3) https://docs.google.com/document/d/10ytrcbWp4Q6CEkWjdCS-uCOVaCJJ59FuhDODq-9Tvdc/edit?hl=en
Comments
comments