When Is Amy's Organic Fast Food Vegetarian Restaurant Opening Up Near You?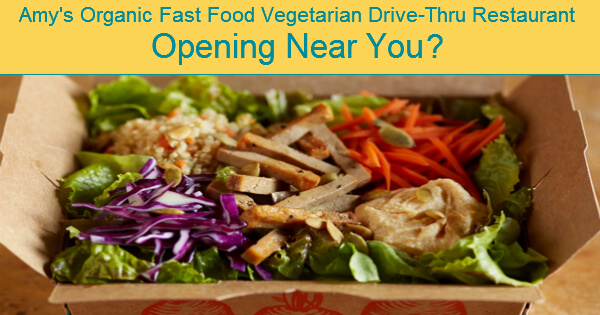 What's On The Menu At Amy's New Organic Fast Food Vegetarian Restaurant?
A couple of innovative pioneering entrepreneurs in the fast-food industry, Andy and Rachel Berliner, CEO's of Amy's Kitchen, have just made history.
Fans of frozen meals from Amy's Kitchen can now satisfy their cravings for vegetarian, non-GMO, organic food with a spin through Amy's Drive Thru restaurant in Rohnert Park, (California). The first ready-made food enterprise from Andy and Rachel Berliner, who founded their healthy frozen-food business almost thirty years ago, is now open for business.

The building itself is also a paean of eco-friendliness, featuring over 50 solar panels, a living roof and an interior comprised with over 95% repurposed or salvaged wood.
I know the vegetarian community is salivating at the possibility of Amy's Drive-thru franchising and popping up in their own communities.
Well this is the scoop so far on the question of if franchising Amy's Drive-thru is in the picture for the near future:
If this pioneer attempt is successful, expansion is a definite possibility, says Andy Berliner. They'll take the process slow, and expand when ready, he adds. But, signs point to a sea change in consumer demands when it comes to fast food. In the face of declining sales profits as food-savvy millennials defect to new fast-casual establishments, McDonald's recently set out out to redefine itself as a "modern, progressive burger company."

Rachel Berliner recounts how a post about the restaurant's launch on an anti-GMO website led to hundreds of letters from all over the country.

"People were writing in to ask when Amy's Drive Thru was coming to their town," Berliner says. "My feeling is that the restaurant is something that's really needed."
Let's take a take a virtual drive-thru of Amy's Drive-thru Restaurant and see what we have to look forward to.

VIEW NFOGRAPHIC: What's on the menu at the Nations 1st Organic, Vegetarian Fast Food Drive Thru?
(Source: http://sf.eater.com/2015/7/22/9015613/amys-kitchen-drive-thru-fast-food-vegetarian-california)
(Source: http://civileats.com/2015/05/26/amys-clean-fast-food/)
(Image Source: http://eatlocalgrown.com/article/15051-nation-s-first-major-organic-drive-thru-fast-food-restaurant.html?utm_medium=social&utm_campaign=postplanner&utm_source=facebook.com)
Comments
comments