The Truth About Cast Iron Pans: 10 Facts You Need To Know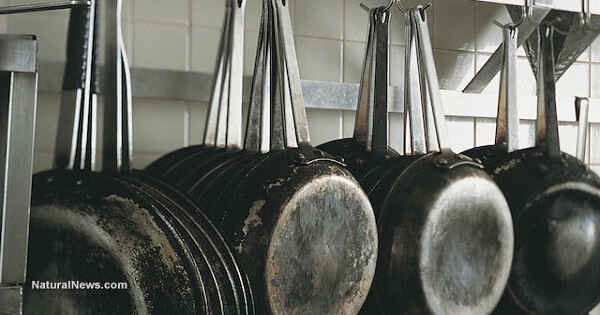 Have You Been Told That Cast Iron Pans Are One Of The Best Cookwares To Use?
I have been told that cast iron pans was one of the better cooking pots to use.
I have been told that the iron in the pans was good for me.
I have been told that cast iron pans distribute heat more evenly and maintains a constant temperature longer than any other pan.
I have been told that other pans that are coated with non-stick coating contain toxic chemicals in the coating.
I have been told that cast iron is as good as or better to cook with than stainless steel and glassware.
Have you been told these things too?
Well these things are all true.
Here is a list of 10 known facts about cast iron pans.
10 Facts About Cast Iron Pans
Avoid Toxic Fumes – Non-stick coated pans give off toxic fumes and aluminum pans leach toxic aluminum into your food.
Use in oven – Bake anything in the oven using this pot and it turns out perfectly especially cornbread.
Nonstick – The non-stick capabilities of a cast iron pan rivals any non-stick cookware. The key to making your cast iron pan non-stick is to cure it by preheating it and oiling it before placing any food in it to cook. Also, don't forget to care for the iron properly so your cast iron pan can retain this ability.
Easy Clean up – Clean up is very easy with cast iron pans. If it was cured properly before cooking, then the food just lifts out of it perfectly leaving little to not food remains. Then you just wipe it out with a paper towel or damp dish cloth. Soaps actually wear away the curing you've already done to the pan. Water causes the pan to rust.
Health Benefits – The iron in the pan is added to your food and that's a good thing. This iron can boost your energy levels and immune system.
Inexpensive – A 12-inch cast iron skillet are less expensive – around $30 – is less expensive than its rival counterpart stainless steel skillet – around $100.
Food cooks beautifully – Because the heat is maintain and distributed evenly in cast iron pans, cooking and browning your food becomes an art form that turns out beautifully once you've mastered how to cook with cast iron.
Sturdy/Wears well – You do not have to be selective in choosing the right type of utensils to stir or flip with. Any material will work but I suggest metal utensils since the heat is maintained so well in these pans. These pans have been passed down from generation to generation because they last that long if cared for properly.
Any heat source can be used – Cast iron pans should be included in your disaster plan if you have one. They can be used over any heat source. So if you having fun camping or in a survival situation, these pans will serve to cook your food without a problem.
Proven over years – Unlike the new technologies cropping up these days, this is an old technology that has withstood the test of time. You can depend on cast iron pans to be safe, non-toxic and dependable for many years to come.
Proper Care of Cast Iron Needed
In order for you to get the highest quality benefit out of a cast iron pan, you need to make sure to care for it properly as I have mentioned before.
YOU MUST keep cast iron pots cured or seasoned with oil and away from water.
Do these two things and your cast iron pot will last for generations.
One drawback to cast iron pans is that they are heavier than stainless steal and aluminum but that's just a small inconvenience compared to the many benefits you get over these other pans.
(Source: http://eatlocalgrown.com/article/13682-cast-iron-pans-facts.html)
(Image Source: http://www.naturalnews.com/047755_cookware_cast_iron_healthy_kitchen.html )
Comments
comments