Vegan Candy Cane Cupcakes That Makes Festive Table Decorations Too!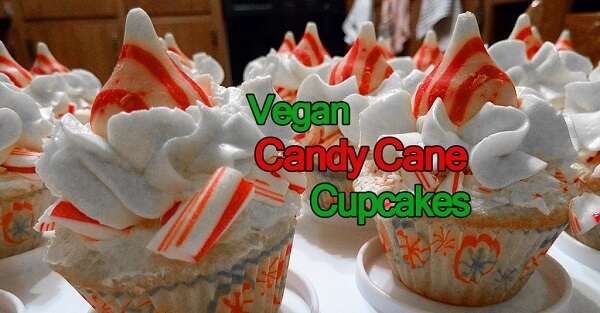 There are some things that just scream holidays. Delicious foods, colorful decorations and bright red and green colors are just some of them. This vegan cupcake recipe takes all of those things and puts them together into one yummy holiday experience! Egg free and dairy free, these vegan cupcakes are really quite amazing.
Vegan Candy Cane Cupcakes
Ingredients
Cupcakes
1 Cup All-Purpose Flour
1 teaspoon Baking Powder
1/4 teaspoon Sea Salt
1/4 Cup Vegan Butter* – softened
1/2 Cup Sugar
1/2 Cup Silk Unsweetened Organic Soy milk
1 teaspoon Vanilla Extract
Frosting
3/4 Cup Vegan Butter – softened
2½ Cups Powdered Sugar
1 teaspoon Silk Unsweetened Organic Soy milk
2-4 Drops Peppermint Oil (to taste)
Topping
Crushed Candy Canes
Get preparation instructions on the next page below
Vegan Candy Cane Cupcakes
Preparation instruction for vegan candy cane cupcake
Cupcakes
Preheat oven to 350°
Sift flour, baking powder and salt. Set aside.
Cream together butter and sugar. Add soymilk and vanilla. Mix.
Gradually add dry ingredients while mixing.
Divide the batter between 6 muffin tins prepared with paper liners.
Bake 20-22 minutes or until a toothpick can be inserted and removed clean.
Transfer to rack and cool completely before frosting.
Frosting
In a stand mixer fitted with the whisk attachment, whip the butter for 30 seconds.
Add the powdered sugar 1/2 cup at a time. Scrape the sides in between each addition and start mixing slow then increase to medium/high. Mix for 30 seconds between each sugar addition.Stop and scrape down sides.
Add soy milk and peppermint oil.
Mix on medium/high speed for 3-4 minutes. Frosting will be light in color and fluffy.
Chill in the refrigerator for 5 minutes before frosting cupcakes.
Pipe frosting onto cooled cupcakes and top with crushed candy canes.
This recipe was adapted from a recipe by Wonky Wonderful. Photo Courtesy of Tawest64 and was modified from this original .
This Recipe is from VeryVeganRecipes.com reposted with permission.
Comments
comments