7 Vegan and Vegetarian Pasta Recipes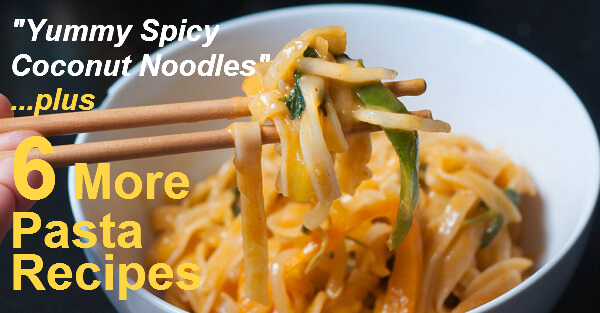 These 7 pasta recipes serves up with a variety of flavors and pasta choices that you could eat every day and not get bored.
Spice up the hum-drum taste of noodles with these great flavors and spices. These pasta recipes adds the tantalizing flavors of garden fresh tomatoes, exotic coconut, nutty cashews, herbs like basil and the medicinal garlic, and don't forget the oh-so common cheese.
You can even have a noodle dish every day without getting bored with the variety I have here. I have selected clam shell pasta, angel hair pasta, fettuccine pasta, and the two common spaghetti and macaroni.
So pick your choice of flavors and make a pasta week of it!
Number 7 is made with vegetarian cheese so easily adaptable to substitute a vegan cheese preference.

Spicy Coconut Noodle
Serves 4
Ingredients:
8 ounces rice noodles or fettuccine
1 13.5-ounce can unsweetened coconut milk
3 tablespoons tomato paste
1 teaspoon chili powder
1 teaspoon kosher salt
1 tablespoon chili paste or sauce (optional)
3 scallions, thinly sliced
8 ounces bean sprouts
16 basil leaves, whole or torn
1/4 cup shredded coconut, toasted (optional)
Directions
Cook the noodles. Follow the package directions. Drain and set aside.
In a large saucepan, combine the coconut milk, tomato paste, chili powder, salt, and chili paste (if desired) over medium-high heat.
Allow it to boil, then reduce heat and let it simmer for another 2 to 3 minutes.
Pour the sauce unto the drained noodles, stir and then toss.
Place in individual bowls.
Garnish with the scallions, sprouts, basil, and coconut (if desired).
Recipe adapted from RealSimple.com.
This Recipe is from VeryVeganRecipes.com reposted with permission.
CLICK "NEXT" TO CONTINUE
Comments
comments