Vegan Lasagna Without Having To Preboil The Noodles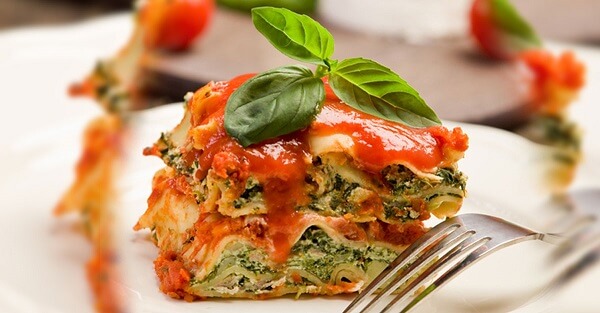 Do you know how to make a tasty vegan lasagna without preboiling the noodles first? That would save you on some time, wouldn't it. Well, here's how.
This vegan lasagna recipe is an inspired creation of VeryVeganRecipes . The trick he shares in this vegan lasagna recipe is how to make your lasagna dish without preboiling the noodles first. I think you are going to appreciate the time that saves you. More that that, you will love how this vegan lasagna tastes.
Vegan Lasagna
Ingredients
Lasagna Stuffing
2 teaspoons olive oil
2 cups chopped onions
1 tablespoon minced garlic
10 ounces baby spinach
23 ounces firm tofu, drained
8 ounces vegan cream cheese
¼ cup chopped basil
¼ cup nutritional yeast
LASAGNA SAUCE AND NOODLES
5 ½ Cups red sauce (your favorite brand or recipe)
12 uncooked whole-wheat lasagna noodles
2 oz. vegan soy sausage crumbles
2 ounces shredded mozzarella flavor vegan cheese (1 cups)
Stuffing:
Preheat oven to 375°F.
Heat oil in skillet over medium heat.
Saute onions and garlic in oil 4 to 5 minutes
Add spinach, and cook 2 to 3 minutes until wilted.
Put mixture in food processor. Add remaining stuffing ingredients and puree until mixture is thick and smooth. Add salt and pepper to taste (optional)
Spread 1/4 of Red Sauce recipe on bottom of 13×9 baking dish.
Cover with 4 noodles, then half of the Filling
Put on another 1/4 of red sauce.
Repeat once more.
Spread sausage on top then cover with 1/4 red sauce.
Complete last layer with remaining noodles/sauce and sprinkle with cheese
Cover with foil and bake 30 minutes
Uncover and bake 15 more minutes, or until noodles are tender
Let stand 20 minutes before serving
This recipe is from Very Vegan Recipes and is reposted with permission.
Comments
comments