Tasty Shepherd Pie Vegan Recipe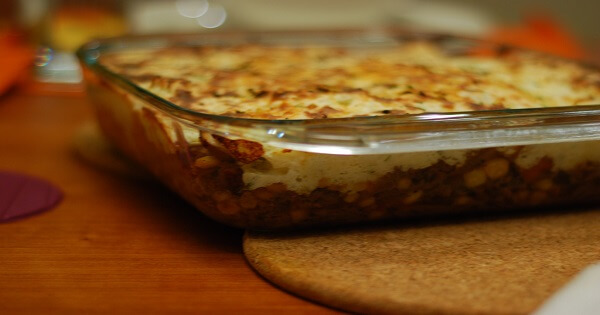 My sister loves serving this favored dish called shepherd pie at family gatherings.
Come to find out that, shepherd pie is a favorite dish of many people. So if this is one of your favored dishes as well, I found this vegan version of shepherd pie that you will find very tasty.
This vegan version of shepherd pie is rich in protein and serves 8 persons.
Tasty Shepherd Pie Vegan Recipe
Ingredients
600 g Maris Piper potatoes
600 g sweet potatoes
sea salt
freshly ground black pepper
40 g dairy-free margarine
1 onion
2 carrots
3 cloves of garlic
2 sticks of celery
1 tablespoon coriander seeds
olive oil
½ a small bunch of thyme
350 g chestnut mushrooms
12 sun-dried tomatoes
2 tablespoons balsamic vinegar
vegan red wine
100 ml organic vegetable stock
1 x 400 g tin of lentils
1 x 400 g tin of chickpeas
5 sprigs of fresh flat-leaf parsley
2 sprigs of fresh rosemary
zest of 1 lemon
30 g fresh breadcrumbs
Method
1. Preheat the oven to 200°C/400°F/gas 6.
2. Peel and chop all the potatoes into chunks, rough 2 cm. Place the Maris Pipers into a large pan of cold water (salted) over a medium heat. Bring to a boil, then simmer for 10 to 15 minutes, or until tender. Add the sweet potatoes after 5 minutes. Drain and let it stand to steam dry. When already dry, return the potatoes to the pan with the dairy-free margarine and a pinch of salt and pepper. Mash until smooth; set aside.
3. Peel and finely slice the onion, carrots and 2 garlic cloves, then trim and finely slice the celery. Bash the coriander seeds in a pestle and mortar until fine, then add it all to a medium pan over a medium heat with a good splash of olive oil. Pick in the thyme leaves, then cook for around 10 minutes, or until it becomes soft.
4. While waiting for the thyme leaves to be cooked, chop the mushrooms and sun-dried tomatoes and add the vinegar and 2 tablespoons of the sun-dried tomato oil from the jar. Cook for about 10 minutes; add a splash of wine, turn up the heat, and let it boil and bubble away. Stir in the stock, lentils and chickpeas (juice and all), then leave it to tick away for 5 to 10 minutes, or until slightly thickened and reduced. Pick and roughly chop the parsley leaves, then stir into the pan. Season to taste and transfer to a large baking dish (roughly 25cm x 30cm).
5. Spread the mashed potato over the top, scuffing it up with the back of a spoon. Finely slice the remaining garlic clove, then place into a bowl with the rosemary leaves, lemon zest, breadcrumbs and 1 tablespoon of olive oil. Mix well, sprinkle over the mash, then place in the hot oven for around 10 minutes, or until piping hot through. Place under the grill for a further 2 to 3 minutes, or until golden, then serve with your favorite greens.
This recipe is from Very Vegan Recipes and is reposted with permission.
Comments
comments