[REPLAY] If You Missed It, LIVE COACHING CALL With Ms. Raw Cold Turkey Ashley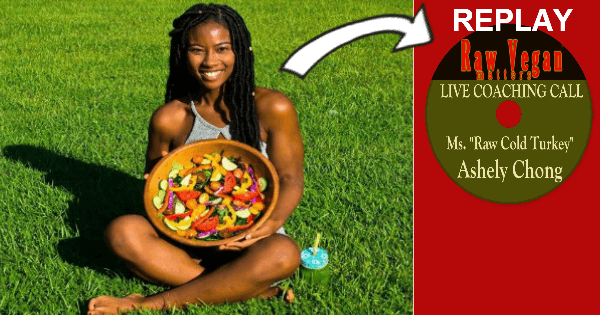 We had an insightful and fun coaching call with Ms. "Raw Cold Turkey" Ashley as I like to call her from RawandRadiant.com. If you missed it, you can listen to the replay.
Transcript Excerpt of Coaching Call
(Intro music playing…)
HOST: Welcome, I'm Louise Campbell-Anthony, your host.
I'm live here at RawVeganMatters.com on our first coaching call with a very special guest coach we have with us today.
An amazingly, strong willed woman whom I've given the name – Ms. "Raw Cold Turkey" Ashley." I gave her that name because she turned from a S.A.D. diet – that's the Standard American Diet – to an 100% raw diet overnight…cold turkey.
[00:00:35]
Her name…Ashley Chong.
She's been featured on the cover of People Magazine. She's been featured in ForksOverKnives.com, Mercy For Animals, BlackWomenLosingWeight.com, and many other media spotlights for the drastic health transformation she's managed to accomplish in just a little less than a year. She dropped 252 lbs. down to 125 lbs. on a raw diet. Now she's running her own blog at RawandRadiant.com and she has her own line of products. So I'm so honored that she agreed to coach our Raw Vegan Matters Fans and Followers and share her experience and her know how about living the raw vegan lifestyle.
So without further ado, let's welcome…Ms. "Raw Cold Turkey" Ashley Chong to our call.
Hello, Ashley.
ASHLEY: Hi.
[00:01:28]
HOST: Hi. I'm glad and I'm honored, that you've agreed to be our coach for today and I'm sure our Raw Vegan Fans and Followers are happy as well. So thank you for being with us today.
ASHLEY: You're welcome. I'm honored to be sharing with you guys today.
HOST: Thank you so much. Now for any of the Fans and Followers that's on the call if you have any questions that pop into your head as we are going through the questions that we already have we want you to type those questions in to our email box at support@rawveganmatters.com, support@rawveganmatters.com. And I will monitor it and try to get those questions in, if we can. If we can't get 'em in Ashley has agreed to answer any questions that we do have come in and we will put them in the transcript and have them available to you that way. So, fair enough. So let's get into our questions.
[00:02:26]
HOST: Now Ashley, I'm going to ask you a few questions about yourself to help everybody get introduced to you and your story. OK? Kay..Alrighty. So I first heard about, read your story, you were motivated to lose weight once again when you had to get into a dress for your sister's wedding. Now that decision turned out to be a transformation of your entire life. So would you share with our listeners the little background story to what came, how that decision came about.
ASHLEY: Of course. Well my sister, she had just gotten engaged to her now husband and she was like – "Oh are you gonna be a bridesmaid?" and I was like – "Yeah, Of course. You know I'm so happy for you," – and everything, you know but in the back of my mind I was like – you know, I don't want to go up there and stand beside you and look terrible and I wasn't feeling good. So I was like I have to lose some weight for this. All my family is going to be in town and people who haven't seen me in a while are going to see me. So you know I have to try to lose some weight and look good for this event. So that's what really jump started the whole process. I did try to lose weight beforehand, a couple of times and you know, it was just quick little one month things here and there. I lost 10 or 15 pounds but it was nothing you know life changing like what happened afterwards.
Get the full transcript in this bundle product offer that RawVeganMatters.com and RawandRadiant.com put together for you.
7 Day Radiant Reset ebook – A Raw Recipe ebook. RawandRadiant's 7 Day Reset works by eliminating all things such as animal protein, GMO's (genetically modified organism), harmful fats, refined sugars, and overly processed foods that are scientifically known to put a burden on the body and damage health. By replacing these food-like products with nutrient rich foods, you will likely experience a host of benefits including but not limited to increased energy, weight loss, glowing skin, vitality, and improved health.
8 Coaching Tips Wall Graphic Memory Aide PDF – A graphic to post to your wall as a memory aide to the remind yourself of the most important 8 coaching tips from Ashley Chong to successfully transition to a raw diet or to simply just eat healthier taken from the coaching call.
Coaching Call Full Transcript PDF
Coaching Call Full Transcipt Mobile Version – For tablets and cell phones
Coaching Call Audio mp3 Download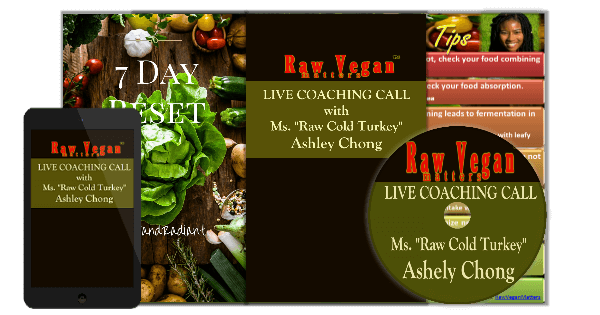 BUNDLE OFFER IS NO LONGER AVAILABLE
Leave a comment below and let us know what topics or issues you would like to discuss on our next coaching call. Be sure to "LIKE" our Fanpage, so you can know what we have going on.
Comments
comments