RIP Wayne Dyer: Self-Help Pioneer Passes Away At 75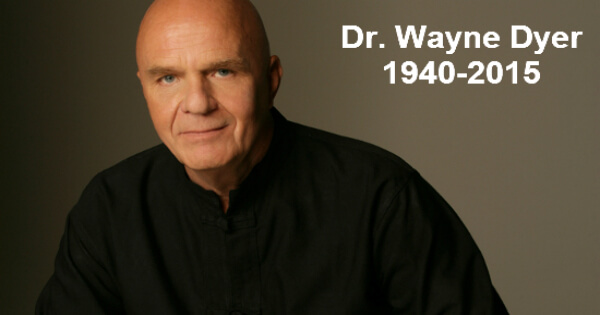 Dyer Looks at Leukemia as the Body's Way of Healing.
When a guru like Wayne Dyer who is known for mastery of self and positive thinking dies, the first thoughts of many people are what dis-ease is powerful enough to have overtaken the health of this great spiritual guru.
I know that's one of the first thoughts that run through my mind.
Many expect people of this spiritual caliber would live a long life – 75 years old is about the average life span for an American male. So why does Dyer leave this earth so soon?
Inherent in that question are the suspicions we formulate around whether the guru's diet and daily health habits were the cause of death.
After researching the development leading up to Wayne Dyer's death, I discovered that Dyer had been diagnosed with leukemia in 2009. This form of cancer is in the blood and is considered fatal.
Dyer after his initial shock hearing this diagnosis finally came to this state of acceptance:
"A few years ago I was diagnosed with leukemia and I really bought into the diagnosis. I've come to understand that all illness in our bodies is really preceded by our energy body. And that so often what we call illness is nothing more than our body's way of healing."
In an interview with EnergyTimes.com, Dyer was asked what was his dietary practices.
ET: As much as we are spiritual beings, we still inhabit bodies. How do you care for yours in terms of your diet and fitness regimen?

WD: When I finish this interview I'll be doing yoga, and when I come out of that I'll be going into this beautiful ocean I'm looking at right now. I'll swim for about an hour and then I'll go for a walk with one of my kids.

I don't eat sugar at all, but I eat pretty much everything I want. I'm not a vegetarian; I don't eat too much meat but I eat it once in a while. I eat a lot of vegetables. I don't eat sugar or drink fruit juice.
I take superfoods everyday—spirulina. I take vitamin E and vitamin A. I take hawthorn. I take NAC (N-acetyl-cysteine). I take milk thistle for the liver. I take alpha lipoic acid. I take vitality enzymes. I take an herbal formula for the prostate and for my heart. I take some for my lungs; it's pretty intense. I take CoQ10.

I take green tea extract; I've heard that people who take it have been able to overcome CLL. I have something called CLL (chronic lymphocytic leukemia). I just discovered it six to eight weeks ago. It's something that happens as your body gets older. It happens with men and it's not life-threatening; it's not acute leukemia. But whatever it is that's going to happen to my body I know that ultimately all things that materialize dematerialize, so it's going to dematerialize and I'm going to leave it behind.

So I detach myself from it. I watch it and I get out there and I do my exercise. I keep a very positive attitude about it and when it's time for me to shed this old shoe, I'll just shed it.

ET: That sounds very pragmatic.

WD: I'm fascinated by it. It's an ultimate challenge. Like I always say, you have great things to accomplish while you're here. This is like the addictions I've had in my life, going through a divorce, living in an orphanage. These are big ones, and this is another one that's fascinating to me. I'm actually excited by it and I'm finding it a wonderful challenge. I've been told it's something that's incurable; you don't tell people like me that it's incurable. I've already read studies of people who have had spontaneous remissions with this and I found out a little bit about it. It's not life-threatening; I think I can send it away. I've always believed that about myself.
I have included a series of 6 videos to give you an inside view of Dyer's philosophies and daily practices when it comes to health and diet .
Dr. Wayne Dyer's Surgery from John of God, Part 1 | Super Soul Sunday | Oprah Winfrey Network
CLICK NEXT BELOW to View Video: Dr. Wayne Dyer's Surgery from John of God, Part 2
Comments
comments