(VIDEO) In 15 Minutes The Miracles Of DMSO Presented Yet FDA Dismisses It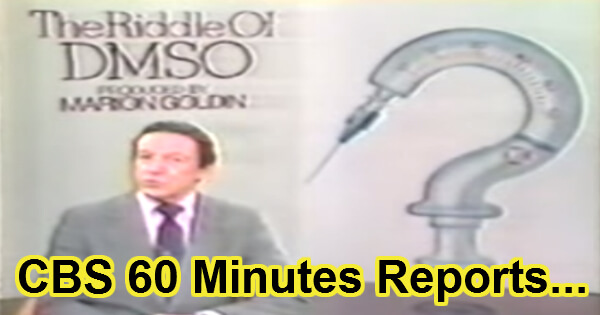 CBS 60 Minutes Reports on DMSO, Why FDA dismisses Its Efficacy, and Testimonial Evidence That it Works
What smells like garlic and taste like oysters? ….DMSO (Dimethyl Sulfoxide)
In this 3-part video series, 60 Minutes presents in about 15 minutes the many miracles that DMSO has performed for people who had chronic conditions that medical doctors could do nothing for.
Dr. Stanley Jacob, as associate professor of surgery at the University of Oregon, presents his research and his results of the DMSO treatment of patients that came to him for help when their doctors could not.
The many conditions that DMSO has been reported to have helped includes:
burns
acne
spinal cord injury
arthritis
baldness
mental retardation
tennis elbow
In Part 1 video, you will hear the testimony of an elderly woman who suffered from arthritis after applying DMSO can play the piano again.
…You will hear the testimony fo a pro football player who suffered from chronic shoulder pain after applying DMSO can can throw the football again.
….You will hear the testimony of a young woman who was told by her doctors that she will be in a wheel chair for the rest of her life after applying DMSO can walk again
Check out Part 1 Video Now.
CLICK NEXT BELOW TO LEARN WHY DMSO WORKS
Comments
comments