Homemade Grain Free Dog Treats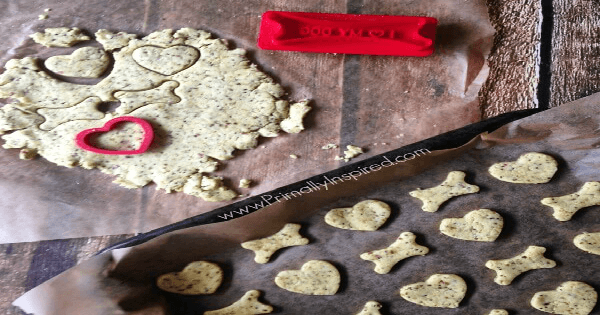 Here is a Recipe for a Flea-Free Dog With a Shiny Coat.
Try this recipe shared by Kelly at PrimallyInspired.com if:
Your dog has fleas.
Your dog's coat looks patchy, thinning or dull.
Your dog is a picky eater.
You want to feed your dog holistic healthy snacks.
You want to maintain or improve your dog's health.
This homemade recipe by Kelly includes ingredients that will have a positive effect on your dog's health. Here are the health benefits of the ingredients she included in this recipe:
Bone Broth is an anti-inflammatory agent that can reduce joint-pain and arthritis. It is also promotes skin health.
Flaxseed is also an anti-inflammatory and promotes skin health. It also produces a shiny a coat.
Animal Fat, Coconut and Olive Oil promotes healthy brain and metabolic function, skin health and shiny coat.
Nutritional Yeast is recommended by holistic health vets as a remedy to keep fleas and mosquitoes off your dog. It's nutrient-dense with amino acids, vitamins and minerals.
Coconut and Tapioca Flour are healthy grain-free choices that are easily digestible and good for dogs who may have allergies.
Kelly's Homemade Grain Free Dog Treats Recipe
Ingredients

Preheat oven to 400 degrees F.
In a small pot over medium heat, bring the chicken broth and fat/oil to a boil.
While that is coming to a boil, mix tapioca flour, coconut flour, sea salt, brewers yeast and flax meal in a medium bowl.
Once the broth/fat mixture comes to a boil, remove from heat and add to the flour bowl. Mix well.
On a piece of parchment paper, press out the dough into a ¼" thick rectangle. Either cut into squares with a pizza cutter or use cookie cutters in desired shape.
Bake for 15 minutes on a parchment lined cookie sheet. When the timer goes off, shut off the oven, crack the door and leave in the oven until cool (about 10-15 more minutes).

Notes:

*You can find cute bone shaped cookie cutters HERE 🙂

Optional Add-Ins for specific issues:

Bad Breath?

Add in 1 tablespoon of fresh parsley.

Got gas or digestion troubles?

Only use ¼ cup fat or oil and add in ¼ cup pureed fresh or canned pumpkin.

Arthritis or joint pain?

Add in 1 teaspoon ground turmeric.

Serves: 50 2″ treats.
Comments
comments