Vegetarian's Respond To Arby's Open Letter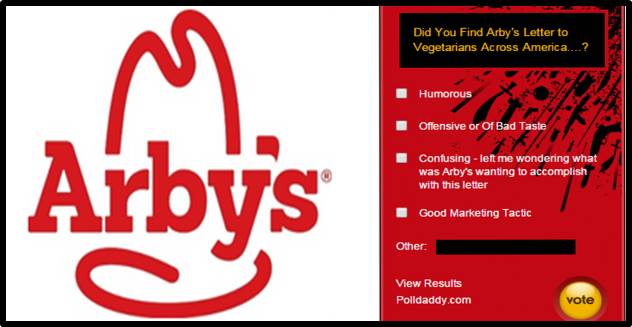 This Letter from Arby's Is Circulating the Internet. What Is Your Response?
What were your first thoughts after you read it?
It opens with this acknowledgment:
We respect you. We respect your life decisions. With that in mind, we want it to be abundantly clear that this letter is not meant to sway or convert you. We're sharing this to offer our support.
It ends with this offer:
We're giving you a number to call: 1-855-MEAT-HLP. This is a Vegetarian Support Hotline . When your nose betrays you and alerts the rest of your senses to find and devour this sweet meat, please call 1-855-MEAT-HLP. You will receive the support you need to resist this gateway meat and get tips on how to avoid temptation. Delicious. Sizzling. Temptation.
I want to give vegetarians an opportunity to respond to Arby's open letter. You can do so by taking the poll below.
When you read Arby's letter, which one of these thoughts ran through your head?
You can tick more than one answer if more than one thought ran through your head.
If you have another thought that is not listed which you would like to share with Arby's, enter it on the line that says "Other."
(Image Sourced and Adapted from: PRNewswire.com)
Comments
comments